Core and Flex - The new Dimensions of Office Tenancy
US Flexible Office Report Q3 2017
"65%
65% of enterprise companies plan to incorporate Coworking into their portfolio offering by 2020.
CBRE Enterprises Survey
"
---
New Dimensions of Tenancy
Secular market trends are pushing companies to select shorter term, flexible office space options. These trends include: workplace mobility, startup growth, small business job creation, the rise of the contingent workforce, accelerated business cycles, new accounting standards, and sharing economy sensibilities. Companies, of all sizes, face a myriad of business scenarios, from needs for touchdown workspaces, to regional expansion offices.
These business requirements force the CRE world to rethink how we deliver real estate. A traditional 10-year real estate lease can't solve the flexible requirements of today's companies. According to Corporate Longevity: Turbulence Ahead for Large Organizations, the average lifecycle of a Fortune 500 company was 33 years in 1965. That lifecycle was down to 18 years in 2013, and it's projected to shrink further – to 14 years – in 2026. In addition, there's a staggering 90% startup failure rate. Shrinking company lifecycles bring into question the viability of traditional 10-year leases.
Fortune 500 Company Lifecycle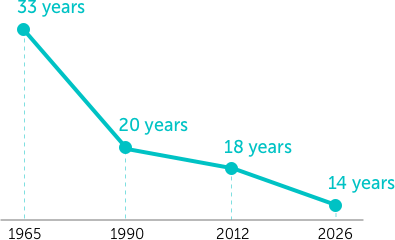 ---

Flexible office solutions continue to be a part of our real estate strategy where it makes the most sense. For example small sales sites, new markets, on demand meeting space, etc.
Scott Wescoat
Real Estate Manager at Texas Instruments
Core

Flexible Office Opportunity
Satellite
10s-100s
employees
Core
The traditional real estate model of 5 and 10 year leases remains a valuable one for established companies developing company headquarters or large regional offices in proven markets. The headquarters is the core and stable part of the evolving company. It's central to company culture and profit-making activities. For example, cities are vying for the attention of Amazon in selecting their HQ2 campus location. According to the New York times "business leaders in Tucson have gone so far as try to mail Jeff Bezos, a 21-foot cactus".
Flexible
New dimensions of tenancy are forcing customers to look at flexible office options as an alternative to traditional real estate models. What are these dimensions? We've seen immense startup growth, preference for workplace mobility, more small business jobs, and favorable sentiments around the sharing economy.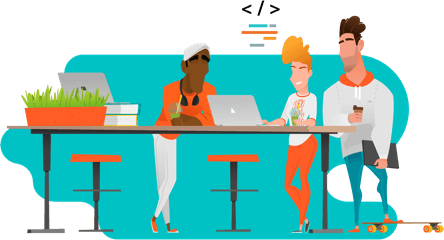 There are four business scenarios that LiquidSpace flexible office customers demand. They are: 1. Mobility, 2. Agile project space, 3. Swing space, and 4. Satellite office space.
Mobility
Companies choose flexible office space for the duration of hours or days. Clients from industries including pharmaceutical and telecom often have a significant percentage of their workforce that's mobile. These teams are often in sales or client advisory. They need space for the duration of several hours or days, near their clients. Read how a Top 20 Pharmaceutical company uses a mobility program for their sales teams.
Other companies choose to offer mobility options to their employees to increase productivity and job satisfaction. The primary driver for instituting these programs are employee satisfaction, retention, and productivity improvements. Mobility programs offer touchdown space anywhere through the LiquidSpace network. Additionally mobility offers access to dedicated hub offices, closer to employees' homes or clients. Mobility programs give management oversight and control into their flex real estate offerings.
Agile Project Space
Companies choose flexible office space for the duration of the project. Service-oriented companies from management consulting to media require dedicated space for local projects. Teams working on production projects have a need for flexible office for the duration of their and their client's projects. Projects tend to span weeks or months and can extend at a day's request from a company's clients.
Companies choose collaborative private team spaces that embody their culture, and have a level of service and veneer that is appealing to host their client in. Agile project space needs depend on client requirements and projects won. Thus the space requirement often has a short decision time requirement based on project win date, and project start date. Plus a quick decision time to extend the space as the project requirements extend.
Swing Space
All companies go through a time and a need for swing space. The majority case occurs when a company embarks on building out a new office space and needs a transition space for several months, while the buildout completes. Because there are often construction and permitting delays, customers extend their space in 30 day increments, which they can easily adjust on flexible terms with LiquidSpace.
The more unpredictable use for swing space, is to weather unforeseen disasters. The top three natural disasters are hurricanes, floods, and fires. Read how Scale Computing dealt with two office fires by quickly leveraging swing space. In a crisis, a business continuity strategy that includes on-demand flexible space access is a win for employees and the bottom line.
Regional Office Space
Companies choose satellite offices for the duration of months or years. Companies launch satellite offices to test new markets. These "test" office spaces can last for months or years, depending on the market's success. Regional offices often grow as they start including more departments. Regional offices shrink when absorbed into headquarters or nearby hub spaces, or when a test market does not succeed.
At the market expansion stage, companies tend to value the nourishment of their own culture and have longer lead times. Sometimes it takes months to choose the right space for the team. A regional office starts with a department or set of departments. Read how this Fortune 500 company put their culture first in selecting altSpace as their regional office solution.
All of these scenarios and additional evolving business needs challenge the traditional real estate model. Headcount might go from 10 to 50 to 100 to 10 in the course of two years. Touchdown space needs follow the customer's needs. With flexible office options, customers no longer have to choose to take on more space than they need to accommodate for growth. They can get an office that grows with them, or book on flexible terms.
---
Average Monthly Rent per Person in US Markets
Average Rental Rates are calculated by dividing the asking rental rate by the maximum capacity of each space.
---