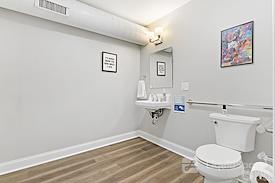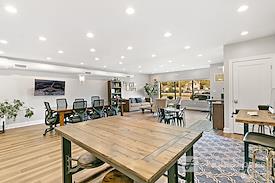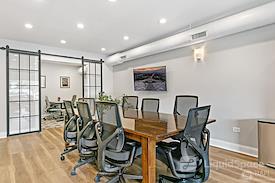 The Office Space
931 West Glen Flora Avenue, Waukegan, IL 60085 -
Confirmed Open
We are a local real estate company passionate about improving our community. We are a husband and wife team who own rental properties and renovate homes to resell. We are opening our doors and sharing our own office. We are an open office space that is fresh and modern. We have a conference table that seats 8 people in office chairs, one couch, two side chairs, two workbenches/desks, and another table next to the kitchenette where we usually eat our lunch. We have a kitchenette and provide coffee and water. We also have a microwave and small mini-fridge for beverages and small food items.
Read more

The Office Space- Monthly Rental
Office Suite for 14
$2,500/month
1 month min. term
This is to rent our entire office space for 1 month. This includes the conference table with office chairs for 8, a rectangular table with 4 pull-out stools/chairs, two large work benches/tables with 2 chairs, a couch and 2 side chairs. Plus you can use a smaller office which opens to the larger room with a desk and another two chairs. There is one ADA compliant bathroom. There are two storage closets and a basement which we use to store items for our business. We may need to access the basement and/or storage closets periodically during your monthly rental, but we would keep it to no more than 1 time per week for less than 30 minutes each visit. We would also confirm with you 1 day in advance if we need to access the building. There is an apartment above the office which is rented as an Airbnb/short-term rental. The guests have their own access door in the back and would not need to come through the office space at all.
Amenities & Services
Accessibility
There are no steps to enter the building and the bathroom is ADA accessible.
Coffee/Tea
We have a Nespresso machine with Vertuo pods. We also provide half and half and sugar.
Filtered Water
We have a drinking fountain that has filtered water.
Print/Scan/Copy
We have a Brother black & white laser printer.
The Office Space
931 West Glen Flora Avenue, Waukegan, IL 60085