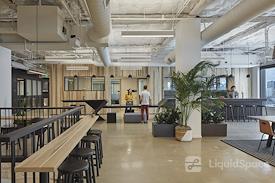 Team Office for 15
CENTRL Office - Downtown Los Angeles
360 East 2nd Street, 8th floor, Los Angeles, CA 90012 -
Confirmed Open
Team Meeting Room (802)
Located on the 7th and 8th floor of Brunswig Square, at the corner of 2nd & Central, in the heart of Little Tokyo, two blocks west of the Arts District and 2.5 blocks east of the Historic Core. CENTRL DTLA will offer a clean and modern aesthetic with plenty of seating options that mimic everything from what you'd expect to find in a traditional office to a coffee shop, a friends living room to a kitchen island, all with fantastic views of downtown Los Angeles. There are high ceilings and floor to ceiling windows to set you up for success, insight, creativity, and increase productivity.
Parking
On site parking is available. Daily max is $12.
Print/Scan/Copy ($)
Black & White - $0.10/page Color - $0.50/page
Door w/Lock
Yes this room can be locked
TV/Monitor
Rolling TV can be requested in advance.
Whiteboard
Must request in advance.
Window View
This is a corner office with amazing views and great lighting.
Filtered Water
Right tap by the kitchen sink
43
people are looking at this space
CENTRL Office - Downtown Los Angeles
360 East 2nd Street, 8th floor, Los Angeles, CA 90012
CENTRL Office offers coworking space that services innovators, creators, and doers. All industries are welcome here; seasoned professionals, entrepreneurs, start-ups, and small to large companies! Collaborate with others in the realm of design, law, tech, business, finance, or development. Alone we can accomplish and together we can thrive. With dynamic spaces in Portland, Hood River, Los Angeles, and Dallas' best neighborhoods, CENTRL offers ergonomically designed and thoughtfully arranged shared office space aimed at increasing productivity, creativity, and collaboration.