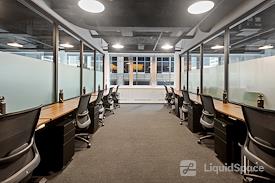 Studio | 600 5th Avenue
600 5th Avenue, 2nd and 11th floors, New York, NY 10020 -
Confirmed Open
Where better to find inspiration at work than at a historic landmark in the heart of midtown Manhattan? Work alongside industry giants, iconic media brands, and cultural sensations. Take advantage of Studio's premium office space and amenities with incomparable access to the city's transportation and amenities. From top-notch retail to world-class restaurants and cultural attractions, Studio's Rockefeller Center workspace is truly where business meets pleasure. Please note proof of vaccination is required.
Read more

Squad 11
Private Office for 8
$6,500/month
1 month min. term
This private office seats up to 8 people.

Squad 22
Private Office for 12
$9,100/month
1 month min. term
This private office seats up to 12 people

A neighborhood brimming with the world's best theatre and dining, Midtown West is also a corporate epicenter
Community