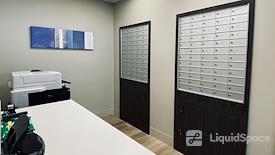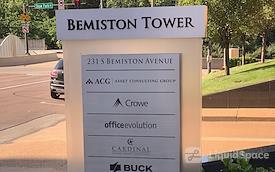 Training Room for 16
Office Evolution Clayton
231 South Bemiston Avenue, Suite 800, St. Louis, MO 63105 -
Confirmed Open
Brown Conference Room
Flexible space for all kinds of gatherings. The room can be arranged classroom, boardroom, or theater style to accommodate your group. Equipped with a whiteboard, conference phone and TV to optimize your presentations.
Notary Services ($)
Each signature is $5.
Print/Scan/Copy ($)
Faxes and scans are free. Copies are charged per page -- .10 for b&w and .50 for color.
Hosted Reception
We're here, 8-5, Monday- Friday, ready to help.
Kitchen
Filtered water, a wide selection of gourmet coffee and tea are included. A variety of healthy and indulgent snacks and beverages are available for purchase at our honor bar.
432
people are looking at this space
Office Evolution Clayton
231 South Bemiston Avenue, Suite 800, St. Louis, MO 63105
Office Evolution Clayton
231 South Bemiston Avenue, Suite 800, St. Louis, MO 63105
In the St. Louis area, Clayton is in the middle of it all. Just 15 minutes from downtown and the airport, Office Evolution Clayton is strategically located and offers the best in work spaces and business services. We provide the tools and technology to help you do your best work here, and are proud to nurture a supportive community of professionals. Our fully furnished workspaces will help local business professionals become more productive and successful. The city of St. Louis has a unique and diverse culture that encourages small business owners and entrepreneurs to thrive. Our office spaces provide a welcoming work environment for locals and businesses that serve or are associated with institutions like Washington University, Centene, Enterprise, Boeing, Worldwide Technologies, Bayer. Resources for Local St. Louis Businesses Take the opportunity to grow your business in an Office Evolution office space rental, while being surrounded by all that St. Louis has to offer. Our office space rentals and business services are designed to help your business reach its fullest potential. Private Office Space Our fully furnished office spaces at Office Evolution Clayton will be a vital asset to your business growth. Our workspaces come with numerous advantages, including a professional and productive atmosphere as well as: Complimentary access to Wifi Professional and comfortable furnishings Coffee and tea for both you and your guests Printing, copying and scanning easily accessible Discounted rates on fully furnished conference rooms Live phone answering service A business mailing address 24/7 access to nationwide business centers Networking opportunities within professional community