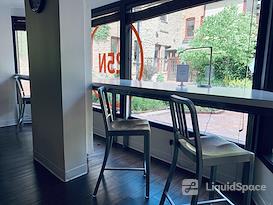 Coworking Pass - 50 Available
25N Coworking - Geneva
25 N. River Lane, Geneva, IL 60134 -
Confirmed Open
Basic Coworking Workspace
Access to a desk in our flexible work space. The pricing is based on a Non-Member rate.
Catering ($)
We have a weekly lunch program you are welcome to participate in! We cover deliver fee and you pay for your meal. We can also set up any catering needs for your company meetings. There is a $25 flat fee in addition to the yummy food purchased.
Hosted Reception
Our office is staffed 8-5 with a smiling Hospitality Coordinator to help answer any of your questions or office needs!
Print/Scan/Copy
Print cost is $0.15 for b&w and $0.25 for color.
203
people are looking at this space
25N Coworking - Geneva
25 N. River Lane, Geneva, IL 60134
25N Coworking - Geneva
25 N. River Lane, Geneva, IL 60134
25N Coworking is more than workspace, meeting rooms, and great (great) coffee—we are a community built on the people we connect with and the opportunities we create. Our spaces are expertly designed to spark collaboration and productivity, and our cutting-edge technology allows our members to sail through their workday uninterrupted. We strive to nurture the creative business ecosystem that grows in our space, and our community's magnetic energy is proof: we're changing the way we work. 25N Geneva is located in the heart of downtown Geneva, right off the intersection of 38 and 31. Park for free in the roomy lot outside of Buttermilk, and step down into the courtyard to find our entrance!