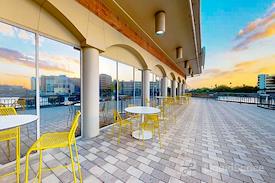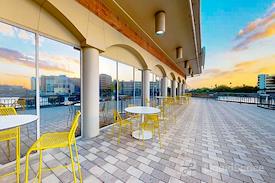 Office Evolution Tampa | Harbour Island
601 South Harbour Island Boulevard, 109, Tampa, FL 33602 -
Confirmed Open
Located in The Pointe at Harbour Island across the water from the Convention Center and Amalie Arena, home of the Tampa Bay Lightning. First floor entrance with parking garage on-site. Nearby amenities include four & five star hotels, restaurants/bars, cafes. A waterfront location with 3,000 SQFT private patio. Modern business center with floor to ceiling waterfront windows and an abundance of natural light.
Read more
Amenities & Services
Hosted Reception
Hosted reception during business hours 8am-5pm.
Kitchen
Locally brewed coffee, lattes, cappuccinos, hot chocolate, and herbal teas. Refrigerator, dishwasher, microwave & table seating.
Office Evolution Tampa | Harbour Island
601 South Harbour Island Boulevard, 109, Tampa, FL 33602
Community
27 People favorited spaces at Office Evolution Tampa | Harbour Island in Tampa
27 followers at Office Evolution Tampa | Harbour Island in Tampa
Crystal Campbell started following.

8 hours ago

Nacresha Richardson, Michelle Bates started following.

one month ago

Bonnie Howell started following.

2 months ago