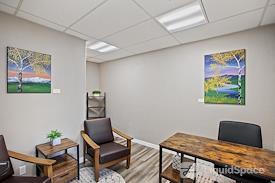 Satellite Workspace
781 Gold Hill Pl S, Woodland Park, CO 80863 -
Confirmed Open
Centrally located office space with closed door office, open desk space, and conference room access all available by the hour, half-day, full day, week, or month.
Read more

Open Desk (monthly membership)
For 1 Open Desk (6 available)
$250/month
3 months min. term
Reserve a open desk workspace to use as often as needed during the duration of your rental. Rental includes an open desk, chair, and access to wifi or ethernet internet connectivity. All guests will have unlimited access to the kitchen and other common areas and 50% off for reservations of the private office or conference room.
Amenities & Services
WiFi
Wifi Available as well as Ethernet, if needed
Accessibility
The open office desks, conference room and bathroom are ADA accessible.
Filtered Water
Refrigerator dispenser filtered ice and water
Kitchen
Refrigerator, Microwave, Coffee Maker (Drip and K Cup), Dishwasher
Satellite Workspace
781 Gold Hill Pl S, Woodland Park, CO 80863
Community