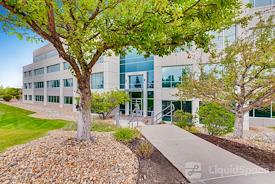 Coworking Pass - 6 Available
Office Evolution - Broomfield/Interlocken
11001 W. 120th Ave, Suite 400, Broomfield, CO 80021 -
Confirmed Open
Productive Coworking Space
Shared workspace to help your day feel more productive. Quiet space near kitchen and copier. Table top or counter top seating available. Wireless and wired access points available.
WiFi
After entering the network password, a splash page will pop up with the options "I have a password" and "I do not have a password". You will click "I do not have a password" and follow the prompts.
Notary Services ($)
Notary fee is $1.00 per minute with a $5 minimum. Please contact the venue at 720-874-9504 24 hours before you reservation to ensure notary services
Print/Scan/Copy ($)
Cost is $.15/pg for b/w and $.30/pg for color. Please contact location manager for details.
TV/Monitor
Flatscreen tv monitor mounted on wall. This tv provides white noise and a connection to current events, and is not meant for private member use.
Coffee/Tea
Coffee, tea and filtered water is available for use any time in the kitchen which is located right next door to the workspace. Directions for use are posted. Coffee cups, water glasses and dishes etc. are provided.
Filtered Water
See above under coffee and tea.
Hosted Reception
Business Center Manager on site 8 AM - 5 PM, Monday through Friday.
There is parking on the north and side south of the building, and the handicap accessible entrance is on the north side of the building.
352
people are looking at this space
Office Evolution - Broomfield/Interlocken
11001 W. 120th Ave, Suite 400, Broomfield, CO 80021
Office Evolution - Broomfield/Interlocken
11001 W. 120th Ave, Suite 400, Broomfield, CO 80021
Our Broomfield location is just south of Highway 36 on Interlocken Loop and has great views of the entire Front Range. Our offices overlook the runways at Rocky Mountain Metropolitan Airport as well as the golf course at the Omni Interlocken Resort. Broomfield Office Evolution is modern and contemporary with multiple conference rooms and close proximity to quality restaurants. Select a virtual office plan at the Broomfield office and enjoy easy access to both Denver and Boulder.

CoWorking - 24/7 Access
For 1 Open Desk (10 available)
$249/month
1 month min. term
This space has natural lighting and large windows overlooking the mountains. A variety of floating desks are available within the location. Easy access to our community kitchen (free beverages), and workspace necessities (lots of seating, WiFi, printer, shredder). Secure WiFi, Kitchen Access, Notary and Witness, Reception, and free parking. • 24/7 Access to home location • Access to business printer/scanner/copier/fax • Complimentary Coffee, Tea, Hot Chocolate • Member Discount on Conference Rooms & Day Office

CoWorking - M-F Access
For 1 Open Desk (10 available)
$149/month
1 month min. term
This space has natural lighting and large windows overlooking the mountains. A variety of floating desks are available within the location. Easy access to our community kitchen (free beverages), and workspace necessities (lots of seating, WiFi, printer, shredder). Secure WiFi, Kitchen Access, Notary and Witness, Reception, and free parking. • Mon - Fri, 8 am - 5 pm Access (except holidays) • Access to business printer/scanner/copier/fax • Complimentary Coffee, Tea, Hot Chocolate • Member Discount on Conference Rooms & Day Office