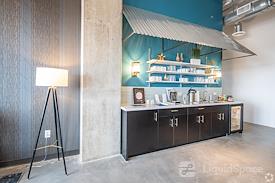 25N Coworking | Frisco
9355 John W. Elliott Drive, 25, Frisco, TX 75034 -
Confirmed Open
It's not easy changing the way we work, but it is possible when you surround yourself with the right people. 25N's culture recognizes that coworking is a human revolution, and our team shows up to work each day with a mission to bring people together—all while ensuring that our workspaces are productive and welcoming. This is workspace as a service, and it's at the core of what we do. A new way to live, work, and play in Frisco, TX. 25N Frisco is 12,500 sq. ft. of private offices, dedicated desks, and flexible workspace housed on the ground floor of Waterford Market Apartments, a residential property near multiple community spaces, restaurants, retail amenities, and recreational facilities. This innovative mix of coworking and residential community offers benefits like shared amenities & event spaces, outdoor social pavilions, and an onsite HIIT-equipped fitness studio.
Read more
Amenities & Services
Catering
We have a weekly lunch program you are welcome to participate in! We cover deliver fee and you pay for your meal. We can also set up any catering needs for your company meetings. There is a $25 flat fee in addition to the yummy food purchased.
Coffee/Tea
We brew yummy coffee all day, every day!
Hosted Reception
Our office is staffed 8-5 with a smiling Hospitality Coordinator to help answer any of your questions or office needs!
Print/Scan/Copy
Print cost is $0.15 for b&w and $0.25 for color.
25N Coworking | Frisco
9355 John W. Elliott Drive, 25, Frisco, TX 75034
Community
33 People favorited spaces at 25N Coworking | Frisco in Frisco
33 followers at 25N Coworking | Frisco in Frisco
Jillian Brown started following.

one month ago

Hayley Rogers started following.

2 months ago

Ashleigh Austin, Bertrand Lewis Jr started following.

3 months ago