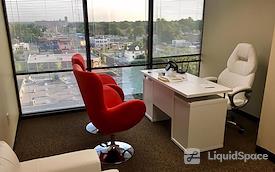 Union Centre Executive Offices and Conference Center
1331 Union Avenue, 10th Floor, Memphis, TN 38104 -
Confirmed Open
Welcome to Union Centre Executive Offices and Conference Center. We are located on the 10th floor of Union Centre, which is a fully renovated 15 story landmark building in Midtown Memphis, just off I-240 N, 3 minutes from Downtown. We have covered parking. The entrance is on Claybrook which is the street between Methodist Hospital and our building. In our center you will enjoy our professional, contemporary decor that will impress your clients and make them feel comfortable. We offer complimentary gourmet coffee in our fully-equipped kitchen. Our high standards for technology allow us to offer client secured WiFi networks, and A/V equipment. Our business center provides Flexible Short-Term Conference Rooms, Training Rooms, and Private Office solutions. Ideal for Entrepreneurs, Start-ups, and small to medium size businesses, you can rent an office for an hour to a day.
Read more

$450/month
1 month min. term
The full time private office with 24/7 access. Please contact for more

Union Centre Virtual Office
Private Office for 1
$139/month
1 month min. term
Do you work from home? Do you need to meet clients in a professional setting? Is your business growing? Our Memphis Virtual office space offers solutions for your business: Private Mailbox - $49 We provide you with a business address for your business. Our 1331 Union Avenue, Suite 1000 address will give you the professional image your business needs for the fraction of the cost of a full time office. Guest Office Use - $139 Our virtual office users receives 16 hours a month of Guest Office. It is a flexible plan! You can use in hourly or full day increments. You only have to schedule with the front desk. Receptionist Services - Live receptionist in a well appointed lobby to greet your guests and assist you as needed. Multifunction Printer - Our multifunction printer is ready for your use for any printing, scanning, faxing needs you may have. Phone line + Voicemail - $199 Unlimited phone lines with voicemail available. The voicemails appear directly in your email inbox.
Union Centre Executive Offices and Conference Center
1331 Union Avenue, 10th Floor, Memphis, TN 38104
Community
17 People favorited spaces at Union Centre Executive Offices and Conference Center in Memphis
17 followers at Union Centre Executive Offices and Conference Center in Memphis
Famim Diakko, Lee Williams started following.

one year ago

Marlo Lopez, GHANA COOPER started following.

2 years ago

Theresa Widby-Rockett, I Care Property Management, MRS. LORI WRIGHT, Anthony Elliott, Erica J, Rubbie King, Michael Sullivan started following.

3 years ago