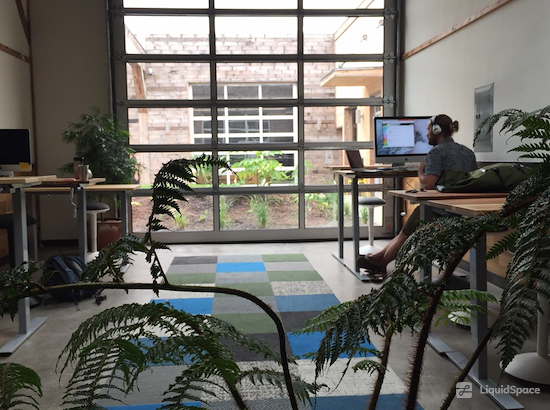 ODD POD
2500 Northeast Sandy Boulevard, J, Portland, OR 97232 -
Confirmed Open
ODD POD is a unique and special environment that Pickathon created next door to their new headquarters in the refreshing New New Crusher Court (NNCC) building. Located at 2500 NE Sandy Blvd, Suite J, and built by Kevin Cavenaugh / Guerrilla Development (also built the Zipper, the Ocean, and the Fair-Haired Dumbbell buildings), NNCC is a dynamic mix of design, branding, creative production, and retail businesses.
Read more

Open Desk 1
For 1 Open Desk (5 available)
$400/month
1 month min. term
Here are a few of the many hand-selected amenities you will find: - Private courtyard shared with NNCC neighbors - Abundant natural light - Beautiful office space curated with Pickathon inspired details and furnishings - Handcrafted live-edge maple sit-stand desks with manual hand cranks and adjustable height stools - Conference room with large custom-built wooden table and white boards (of course!) - Shower with designated locker space for each member - Kitchenette with microwave, full-size refrigerator, dishwasher, electric teapot, french press + coffee - Convenient, central location on bus routes and within close walking distance to many food & coffee options - Off-street parking with soon-to-be completed secure bike parking - High-speed internet - A community of inspiring Portland creatives! Many events, workshops, film screenings, etc in any given week * $400/month rent, Month-to-month lease, first month's rent + one month deposit ($400) at signing, and 30-day notice to end lease.
ODD POD
2500 Northeast Sandy Boulevard, J, Portland, OR 97232
Community