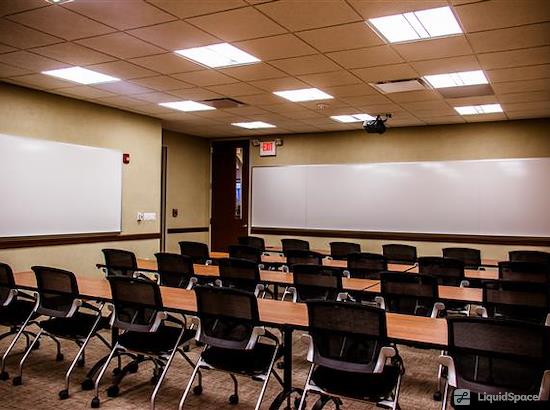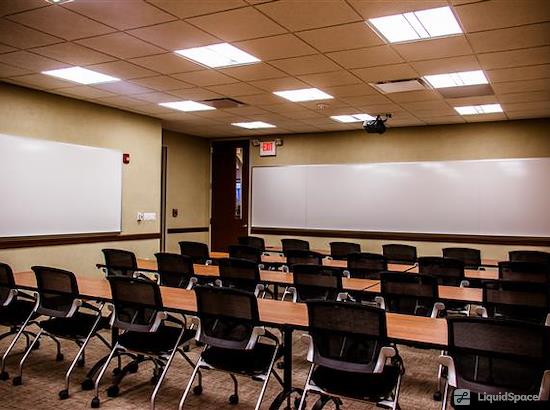 Training Room for 25

Morristown Workplaces
163 Madison Ave, Suite 220, Morristown, NJ 07960 -
Confirmed Open
Morristown NJ Training Room
A purpose-built 24 person training room designed for all day comfort with full whiteboard walls, short throw LCD projector (for no shadow), ergonomic seating, built in wet catering station, full Cat6 wiring, multi-zone lighting, 24/7 access, and power distribution system to each table.
Projector
This Training Room has a ceiling mounted short throw projector with HDMI; VGA and other connections. This projector allows instructor use of the whiteboard directly in front of the projector without throwing a shadow. Perfect for writing on an image.
Room Set-up ($)
Standard configuration for this room is Classroom style with 4 rows of 6 people. U-Shape layout is also available for a $120 set up fee.
Whiteboard
Two full walls of this room are dedicated to 4' metal backed whiteboards including the projection surface. Extensive room for writing in preparation as well as during the course of presentation is possible.
MW Meeting Concierge
Host
8
people are looking at this space
Morristown Workplaces
163 Madison Ave, Suite 220, Morristown, NJ 07960
Morristown Workplaces
163 Madison Ave, Suite 220, Morristown, NJ 07960
Morristown's premier 'business class' workplace is located in a modern Class A office building near I-287. This first class Center offers a full range of workplace options including workstations, private offices, team offices, open desks and coworking at a cost which is comfortable for any budget. Meeting facilities are available for terms as short as one hour for anywhere from 2 to 24 people. Ideal for those wanting a private and focused work or meeting environment where business gets done. The building includes ample free parking; in-building cafe; bank; and other amenities.