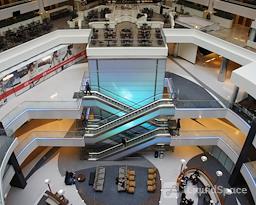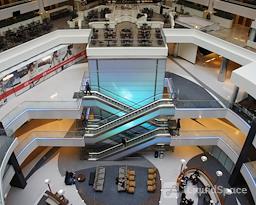 Private Meeting Room for 10
AdvantEdge Workspaces - Chevy Chase, DC Center
5335 Wisconsin Avenue NW, Suite 440, Chevy Chase, MD 20015 -
Confirmed Open
Gallery Place
Our state of the art media room offers a comfortable, modern, meeting experience with a full range of A/V products and systems to maximize collaboration at your next team meeting. With capacity for up to 14 people, this room provides the ideal space for your next meeting where team interaction is key. The Media room is set up with two work areas. The first is a comfortable sitting area facing interactive HDTV screens, which allow up to four presenters to share their laptop/device screens. A high-top bar and stools are perfect for observers, and creates a visual division between the presentation area and 6-person team table.Perfect for brainstorming, this area provides ample space for laptops, papers, etc. Meet in Washington, DC without the DC commute! Situated on the Maryland Border, this location has interior Metro access to Friendship Heights and to the Chevy Chase Pavilion.
486
people are looking at this space
AdvantEdge Workspaces - Chevy Chase, DC Center
5335 Wisconsin Avenue NW, Suite 440, Chevy Chase, MD 20015
AdvantEdge Workspaces - Chevy Chase, DC Center
5335 Wisconsin Avenue NW, Suite 440, Chevy Chase, MD 20015
A full-service, Class "A" business center located in the Chevy Chase Pavilion, 5335 Wisconsin Ave NW, sits atop the Friendship Heights Metro Station in the Chevy Chase Village neighborhood. With sky-lit atrium views overlooking quiet tree lined streets our center provides meeting spaces suitable for businesses of all sizes. Amenities include multiple state of the art conference centers, personalized reception services, on-site assistance, and high speed fiber optic Internet, providing businesses all the services they need day to day. Nine conference rooms are available as well as a 50-person training room and a quiet business lounge. A specialized technology conference center provides the perfect backdrop for presentations and collaborative brainstorming sessions. Kitchens, copy rooms, and an interior patio overlooking the atrium provide alternate workspaces and co-working style hot desks. Parking available. The Chevy Chase Pavilion building is Energy Star rated and designed with top of the line energy efficient fixtures. Plenty of parking makes our Chevy Chase center the utmost convenient location for businesses looking for a DC address without the hassle of navigating downtown. The building includes 24/7 security. Cheesecake Factory, Starbucks, World Market, JCrew, CVS, and many additional stores on the Metro and Street levels. Nestled on the edge of the District of Columbia and neighboring Maryland, 5335 Wisconsin Ave NW is just a short Metro or car ride away from Downtown DC, Virginia, and Maryland. With high end restaurants such as Range and Aggio, and home to the Embassy Suites hotel, the building is the perfect location for accommodating out of town guests. The atrium and retail levels were remodeled in 2011 and provide interior access to the Friendship Heights Metro station as well as Mazza Gallerie. A charming DC neighborhood filled with couture shopping and global cuisine, Chevy Chase is a professional hub nestled between quiet, tree-lined neighborhoods. Conveniently located to the Capitol Beltway, MD-270, I-95, and Baltimore, Chevy Chase provides a DC address without the commute linking businesses to clients in the surrounding DC Metro area.