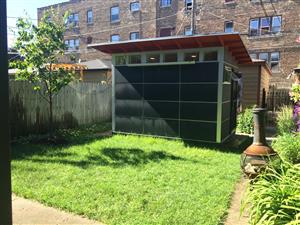 Detached Private Office/Studio
2908 West Dickens Avenue, B, Chicago, IL 60647
0 Followers
Renting modern one-room (8 x 12) office/studio in climate-controlled backyard shed. Security door. Half bath. Built-in shelving. Wooden floors. Cable/net wired and ready. Walk to Blue Line L, 606 Trail, Palmer Square, Parsons Chicken and Fish, Bang Bang Pie Shop, and Milwaukee Ave. restaurants and shops. Perfect for writers, artists, coders, graphic designers, and other sole proprietors looking for private work space.

Private Office/Studio in Logan Square
Starting at $325/mo.
Private Office for 2
six months min. term (Auto - renewed)
This is a modern one-room (8 x 12) office/studio in a climate-controlled backyard shed. I used it as my writing studio for four years before relocating to the other side of town. The space is cable/net ready and features …
View Details
Amenities & Services at 2908 West Dickens Avenue
24/7 Access

Door w/Lock

Entry

Parking

Pet Friendly

Window View
Space Types at 2908 West Dickens Avenue
Hipster paradise with bike-friendly streets, artisanal cocktail lounges, and cheap eats