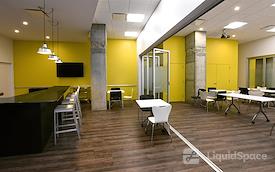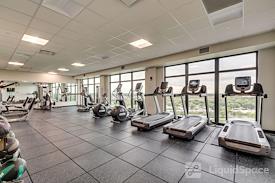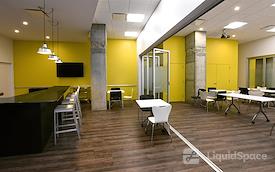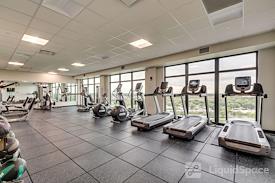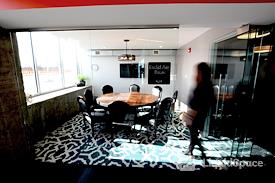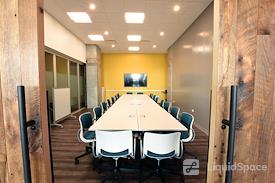 Event Space for 100

25N Coworking - Arlington Heights
3400 W. Stonegate Boulevard, suite 101, Arlington Heights, IL 60005 -
Confirmed Open
Hub Event Space
We are a beautifully designed coworking space with five meeting rooms that each have a dry-erase idea wall and large wall-mounted monitor. Our spaces are designed to spark creativity and collaboration. The meeting rooms are perfect for client presentations, brainstorming sessions, corporate off-sites, seminars, interviews, and heads down work. Access to blazing fast WiFi is included. We provide locally roasted coffee, a selection of teas and filtered water for all meetings.
Room Set-up ($)
Service fees apply
Bike Rack ($)
Premium members will receive access to additional amenities (including bike rack) through our partners at One Arlington Apartments.
Catering ($)
We have a weekly lunch program you are welcome to participate in! We cover deliver fee and you pay for your meal. We can also set up any catering needs for your company meetings. There is a $25 flat fee in addition to the yummy food purchased.
Print/Scan/Copy ($)
Print cost is $0.15 for b&w and $0.25 for color.
Coffee/Tea
Fresh coffee brewed every day, all day for you and your guests.
Hosted Reception
Our office is staffed 8-5 with a smiling Hospitality Coordinator to help answer any of your questions or office needs!
Kitchen
Full functional kitchen; 2 microwaves, 1 industrial size refrigerator, dining utensils (bowls, plates, cups, serving platters, silverware, etc), & 2 dish washers
Parking
Free parking available in front of building.
16
people are looking at this space
25N Coworking - Arlington Heights
3400 W. Stonegate Boulevard, suite 101, Arlington Heights, IL 60005
25N Coworking - Arlington Heights
3400 W. Stonegate Boulevard, suite 101, Arlington Heights, IL 60005
25N Coworking is more than workspace, meeting rooms, and great (great) coffee—we are a community built on the people we connect with and the opportunities we create. Our spaces are expertly designed to spark collaboration and productivity, and our cutting-edge technology allows our members to sail through their workday uninterrupted. We strive to nurture the creative business ecosystem that grows in our space, and our community's magnetic energy is proof: we're changing the way we work. 25N Arlington Heights is located in the first floor retail space of the One Arlington Apartment building. 25N Parking is located in a lot to the west of the main building.