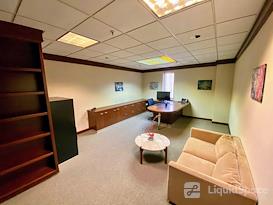 Team Office for 20

mindwarehouse
111 Northeast 1st Street, 8th Floor, Miami, FL 33132 -
Confirmed Open
Full Floor Space
Our full floor plan consists of large executive offices with exterior views of historic Downtown Miami. There are 2 open areas in the center with built in desk units.  All of the offices are furnished with desks with additional pieces in some offices.  A large conference room is also outfitted with a projection screen as well as a pantry pass through for serving during catered meetings.  The space still retains many of its historic Mimo features such a mahogany doors and accents, furniture, and brass lighting accents.  The space is set up currently for limited elevator access so meetings or productions are not interrupted. Hosts are given an access card during their stay so they can help their guests can come to the floor from the building lobby. We can also help hosts if requested to get their guests on to the floor during the first 15 minutes of the reservation. The space may also be available on weekends. Please message us for availability. Minimum rental requested is 2 hours.
3
people are looking at this space
mindwarehouse
111 Northeast 1st Street, 8th Floor, Miami, FL 33132
mindwarehouse
111 Northeast 1st Street, 8th Floor, Miami, FL 33132
mindwarehouse is a work and meeting space located in downtown Miami. We offer a range of options for professional and teams depending on the type of space they need. Not ready for an office? We have hybrid combinations of meeting room space and business mail service. Some of our clients choose to book meeting room space with us only when they need it while also using our address as their business mail address. We also have private offices as well with larger meeting room rentals available for special meetings or presentations. We have a variety of members who are experienced professionals who are on their 2nd and 3rd careers or who have left their corporate positions to strike out on their own. Some member backgrounds include fashion and interior design, mediation, real estate, and non-profits. We are also supporters of the Arts. We always have rotation of art on display for purchase in our public spaces so clients and visitors can enjoy a diverse array of pieces by very talented artists. mindwarehouse has hosted and sponsored a diverse array of events featuring visual and vocal arts performances including fashion, spoken word and dance. Have we mentioned we are eco-friendly too? When getting our space ready, we made sure to consider the environment. High efficiency water fixtures help conserve water, while LED & fluorescent light fixtures help save energy. Our paint is zero VOC as well. Just in case there are any rogue VOCs floating around, we have some lovely air cleaning plants. We are located in the Downtown Miami Central Business District. We are about a block away from Miami Dade College Wolfson Campus and the Seybold Building. We are also within walking distance to the Government Center Metrorail Station, First Street Metromover Station, Coral Way Trolley stop, and numerous bus routes.