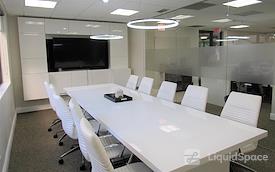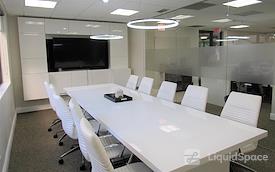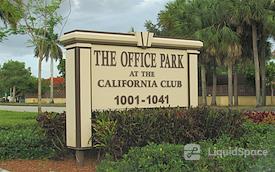 Private Meeting Room for 14
Empire Executive Offices, LLC
1021 Ives Dairy Road, Miami, FL 33179 -
Confirmed Open
Liberty
Our Liberty Conference Room is a phenomenal meeting space. It was designed for a larger group setting. Included: TV Screen with HDMI connections, sound proofing in the walls, white noise, WiFi access and VOIP phone system, Hot Coffee, FREE Parking and available snacks at the front desk for purchase. This room holds up to 14 people and works best for a larger and private group setting.
Video Conference ($)
$100 per person logging in
Catering ($)
Catering options available please contact us for more information.
Notary Services ($)
Monthly Members : Included Non-Members: $10/stamp
Print/Scan/Copy ($)
Black/White copies $.15/page (With Admin Support): $.18/page; Black/White Packages: Available upon request; Color copies $1.50/page; Color Packages: Available upon request.
TV/Monitor
65 inch flatscreen monitor affixed to the wall. Includes HDMI and RGB inputs. Cables available for Mac and PC.
Coffee/Tea
Complimentary hot coffee, hot tea and Fruit infused water
356
people are looking at this space
Empire Executive Offices, LLC
1021 Ives Dairy Road, Miami, FL 33179
Empire Executive Offices, LLC
1021 Ives Dairy Road, Miami, FL 33179
Empire Executive Offices is conveniently located less than 1 mile West of I95 on Ives Dairy Road and 3 miles East of the Florida Turnpike. Empire Offices is a BRAND NEW upscale conference room center constructed to impress your clients as soon as they walk in the door. Offering seven different high-end conference rooms that can accommodate up to 14 people and keeping the cost to the minimum. Keeping all types of businesses in mind, Empire Executive Offices designed this center to offer the best pricing in town. * Packaged Discounted Meeting Room Rates * Monthly Hours can be shared between Ives Dairy and Downtown Fort Lauderdale locations * Scanning, printing, faxing services on-site * Video Conferencing VTC * Small conference rooms are available for private meetings * Mail service/ Virtual Offices ***After-hours/Weekend Access - Please contact us for more information during normal business hours. We will need to arrange for Staff to be on-site for after hours and weekend bookings. Please contact us for Access At least 48 hour's notice. Please note: There is an additional fee of $45/hour for staff to stay on-site. ·