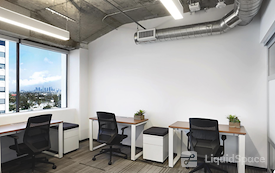 IgnitedSpaces
7080 Hollywood Boulevard, PH, Los Angeles, CA 90028 -
Limited Access
IgnitedSpaces features beautiful, open workspaces, turn-key private offices, meeting rooms, event spaces and a complete media campus. Get inspired and stay productive surrounded by penthouse suite views, world-class hospitality, and the amenities necessary for an environment that propels the modern business. Amenities Include: ample open desk space, various lounge areas, six conference rooms, a 360 degree whiteboard room, three kitchens stocked with coffee & loose leaf teas, and wifi
Read more
Amenities & Services
Accessibility
Elevator access to all floors available.
Coffee/Tea
3 types of bean to cup coffee, 8 types of loose leaf teas, and filtered water available on site.
Hosted Reception
Our Front Staff team are here as an extension of your company. They'll make your guests feel welcomed when they come in for meeting between the hours of 8:30am and 6:00pm
On-site Restaurant
There is currently one restaurant within the building, which is a great spot for lunch and coffee break - Tiago Coffee Bar + Kitchen.
Hollywood is the epicenter of the entertainment industry and home to Los Angeles media startups.
Community
153 People favorited spaces at IgnitedSpaces in Los Angeles
153 followers at IgnitedSpaces in Los Angeles
Danielle Walter started following.

6 months ago

Syml Vakil, Lee Williams, Euzahn Collins, Daniela Aramayo, Marquis Watkins, alec goldberg, Ivet Fortun, Blake Zhang, Joseph Mayuyo, John Rhoads, April duff, Sergio Vasquez, Dominique Lockett, Paige Crystal, LeNita Lockett, Susumu Kimura, Chris Acorne, Hiroaki Mori, Star Del Castillo, Chris Day, Au Finh Saechao, Wellington Kiiru, Adriana Stan, Franzisko Sanchez De La O started following.

one year ago

Marian chung, Helena McGill, Jaime Reeves, Katie Miller, Shouq Kh, Ame Khamsaly, nani welbeck, Kevin Duda, BO YAN ZHUANG, Michelle Tillis, Ari Friedman, Katherine Walker, Kawin Thoncompeeravas, Ric Torres, Timothy Armstrong, Schyller hall, Cesar James, Jonathan Lee, Paquita Hughes, Sherry Wen, LaDonna Galang, Y. Francisco Pomales, Mehmet Yildiz, Jenny Klein, Douglas Cheney, Sebastian De La O, Anthony corralejo, tcruz647 ., Ashley Coffey, Sarah Perez, Mike Paganini, rachel fox, Kajsa Forden, Sadie Wilborn, Winter Wang, Tyler Clark, Lisa Williams, Stephen Taglianetti, Richard Paganini started following.

2 years ago