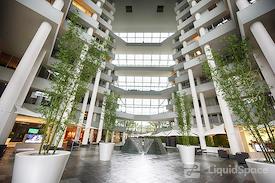 (ATR) The Atrium
19200 Von Karman Avenue, Suite 400, Irvine, CA 92612 -
Confirmed Open
The distinctively designed Atrium is composed of two 10-story towers linked by a glass atrium and includes a five-story parking tower. The building's tenants include Bistango restaurant, Eldorado Bank and Fidelity Investments. The building features a private heliport!
Read more
Amenities & Services
Kitchen
Fridge and microwave use
On-site Restaurant
5 star restaurant Bistango on the 1st floor. Open for lunch and dinner.
Print/Scan/Copy
.15 per page for copies or prints 1.00 per page for color prints
(ATR) The Atrium
19200 Von Karman Avenue, Suite 400, Irvine, CA 92612
Community
12 People favorited spaces at (ATR) The Atrium in Irvine
12 followers at (ATR) The Atrium in Irvine
Younghae Chung started following.

5 months ago

Hasan Salbi started following.

6 months ago

Matt Weiner started following.

7 months ago