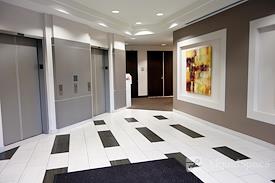 Wembley's Inc
5000 Parkway Calabasas, 114, Calabasas, CA 91302 -
Confirmed Open
We're a small team in a big, beautiful, and newly renovated Calabasas office. We are looking to share our space with individuals or start ups that are looking for an open floor plan and co working environment. The space is designed to create a unique and professional community-setting for start ups, entrepreneurs, individuals, and businesses of all sizes. Walking distance to restaurants, coffee shops, the Calabasas Commons and more! Convenient location right off the 101.
Read more

Dedicated Desk
For 1 Dedicated Desk (7 available)
Starting at $425/mo.
1 month min. term
A chill office environment with mild to moderate office activity during normal business hours, with an excellent Yahmaha audio system. Located within convenient walking, or short driving distance to popular restaurants, Ralph's, Trader Joes, US Post Office, a Postal Annex, cleaners, dentists, medical offices, etc. A Dedicated Desk Space Comes w/ the Following Office Amenities: -Desk (w/ lockable filing cabinet) & Herman Miller Office Chair - Door Fob & Office Key for Before/After Business-Hours Access - Wifi &/or Ethernet Connection - Phone (w/ transfer ext.) - Printing, Scanning, & Faxing Capability - Coffee, Tea, & Water - Break Room: Refrigerator, Microwave, & Toaster Oven

Large Dedicated Desk
For 1 Dedicated Desk (5 available)
Starting at $638/mo.
1 month min. term
A chill office environment with mild to moderate office activity during normal business hours, with an excellent Yahmaha audio system. Located within convenient walking, or short driving distance to popular restaurants, Ralph's, Trader Joes, US Post Office, a Postal Annex, cleaners, dentists, medical offices, etc. A Dedicated Desk Space Comes w/ the Following Office Amenities: -Desk (w/ lockable filing cabinet) & Herman Miller Office Chair - Window Room (floor-to-ceiling windows along wall) - hp touch-screen Computer - Door Fob & Office Key for Before/After Business-Hours Access - Wifi &/or Ethernet Connection - Phone (w/ transfer ext.) - Printing, Scanning, & Faxing Capability - Coffee, Tea, & Water - Break Room: Refrigerator, Microwave, & Toaster Oven
Wembley's Inc
5000 Parkway Calabasas, 114, Calabasas, CA 91302
Community
15 People favorited spaces at Wembley's Inc in Calabasas
15 followers at Wembley's Inc in Calabasas
AMY JOHNSON started following.

28 days ago

kian stevens, Ijaz Rasul, Laurine Guido, Yvette Fintland, Mike DAnna, Rosemary Brown started following.

one year ago

Torrei Hart, Amber Monroee, Sina Saeidi, Sloan Turner started following.

2 years ago