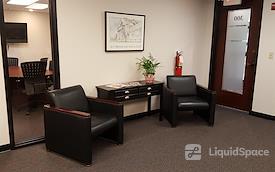 Creve Coeur Workspace
12747 Olive Boulevard, 300, St. Louis, MO 63141 -
Confirmed Open
Sharing office space is more than just co-locating with another business. It is the use of Creve Coeur Workspace's facilities in premium locations that are near your home and your customers. It is not needing to sign a long-term lease, put up substantial security deposits, negatively impact your financial statements and weigh your business down with unnecessary liabilities. ​ Copiers, furniture, telephone systems, LAN/WAN systems, video conferencing equipment, and all related assets that clutter up your books become a Creve Coeur Workspace problem. When assets are shared, our client benefits in several ways. There is no depreciation, cost of capital, bank financing, line of credit, credit approval, or time consuming bureaucratic red tape. We are located in the heart of West County between Interstate 270 and Highway 141 surrounded by a plethora of local + chain restaurants and hotels.
Read more
Amenities & Services
Catering
We will provide you with catering menu, you let us know what you want and we handle the rest!
Creve Coeur Workspace
12747 Olive Boulevard, 300, St. Louis, MO 63141
Community
20 People favorited spaces at Creve Coeur Workspace in St. Louis
20 followers at Creve Coeur Workspace in St. Louis
Dustin Troxell started following.

24 days ago

Stephanie Stephens started following.

5 months ago

Dala Beekman started following.

one year ago