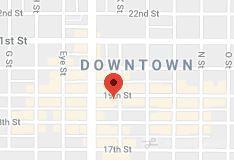 Private Meeting Room for 40
PAS Associates
1401 19th Street, Bakersfield, CA 93301 -
Confirmed Open
Training Center for 40
Our spacious Training Center is available to rent by the hour or day (8am-5pm) at an affordable rate. Features: -Tables and seating for 40, with space for up to 45 (5 with chairs only) -White board which covers an entire wall -Projector -Sound system to easily switch between computer sound and 300 CD changer -Coffee, Tea, and Water available at no extra charge Within walking distance of: -Woolworth's Diner (great burgers and milkshakes) -Sequoia Sandwich Company (online ordering available for quick and easy pickup) -Sequoia QwikCafe (hot and cold sandwiches and salads in a flash) -Chef's Choice Noodle Bar (Japanese and Thai dishes) -Bill Lee's Bamboo Chopsticks (Chinese) -Uricchio's Trattoria (Italian) -Mi Peru Restaurante (Peruvian) -Tacos Las Salsas (Mexican, delicious and fast lunch specials) -Public Parking is available down K street, behind Serrano's Furniture and in front of Woolworth's. Most of the spots in front of the Kress building are 90-minute parking and the city does issue parking tickets, so please park accordingly. *Please note that a current Certificate of Liability will need to be provided by Guest at time of booking*
Print/Scan/Copy ($)
$.05/page for scan to email $.10/page for black and white printouts/copies ($.20/page for double-sided) $.40/page for color printouts/copies ($.80/page for double-sided)
Door w/Lock
Door is lockable from the inside. Keys are kept by staff in Suite 235.
Projector
Projector available with VGA hook-ups. Adapter available upon request.
Room Set-up
Coffee, tea, and water will be set-up prior to arrival. Any other amenities listed here will be set-up as requested.
Whiteboard
Large whiteboard covers entire wall of the space. Dry erase markers supplied.
Hosted Reception
Reception desk located in Suite 235, on the second floor above the space. Reception can greet guests and guide them to the space as needed.
Kitchen
Sink, Microwave and Mini Fridge. Freezer available upon request.
Parking
Public Parking is available down K street, behind Serrano's Furniture and in front of Woolworth's. Most of the spots in front of the Kress building are 90-minute parking and the city does issue parking tickets, so please park accordingly.
Alejandra Echeverria
Host
384
people are looking at this space
PAS Associates
1401 19th Street, Bakersfield, CA 93301
PAS Associates
1401 19th Street, Bakersfield, CA 93301
Located in the beautiful Kress Building in Downtown Bakersfield. Friendly staff and central location make this an ideal place to have your next meeting!