124 people are looking at this space
Private Meeting Room for 14 at Battlefield Location
10432 Balls Ford Road, 300, Manassas, VA 20109
Boardroom
This is the largest conference room we have at the facility. Gives you natural sunlight and large enough space to make sure everyone is comfortable. Conference room has a modern look and design. It has all the amenities a client can need.
6AM
7AM
8AM
9AM
10AM
11AM
12PM
1PM
2PM
3PM
4PM
5PM
6PM
7PM
8PM
Battlefield Location
10432 Balls Ford Road, 300, Manassas, VA 20109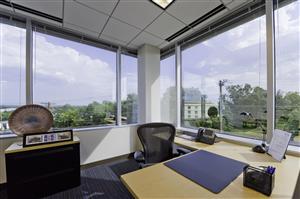 About Battlefield Location in Manassas
Business Centers
Professional, full service space that caters to those looking to do private work in a shared environment with office facilities and services.
Located in the heart of Manassas, VA. This location is brand new with luxury conference rooms. It provides all the amenities a company would need to host a successful meeting. Staff is professional and client satisfaction is our number one priority.

Large Conference Room
Starting at $450/day
Private Meeting Room for 8
Show Rates
$71/hour
$240/half‑day
($60/hour)
$450/day
($56.25/hour)
One of our conference rooms. It can accommodate up to 8 people. Comes with a white board and TV/ Monitor. A very comfortable and stylish place to hold a meeting
View Details

Small Conference Room
Starting at $450/day
Private Meeting Room for 6
Show Rates
$71/hour
$250/half‑day
($62.50/hour)
$450/day
($56.25/hour)
Smallest conference room we have at our Manassas facility. It gives more of a personal touch to the clients. Ideals for clients looking to host one on one meetings or a small group meetings
View Details