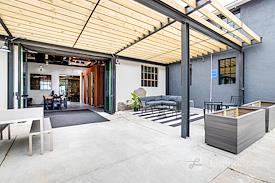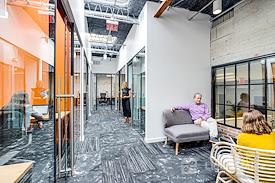 Semi-private Meeting Space for 4
The Loop 215 - Powered by 25N
215 North Payne Street, Alexandria, VA 22314 -
Confirmed Open
Outdoor Work Cabana 2
Great for collaborative sessions or a relaxed workday. Semi-private outdoor seating.
Catering ($)
We can set up any catering needs you or your company might have. There is a $25 flat fee in addition to the yummy food purchased.
Print/Scan/Copy ($)
Print cost is $0.15 for b&w and $0.25 for color.
Coffee/Tea
Complimentary coffee and tea are served all. day. long!
Hosted Reception
Our office is staffed 8-5 with a smiling Community Manager to help answer any of your questions or office needs!
Kitchen
We have a full service kitchen complete with fridge, dishwasher, sink, and ice machine. We also have cups, plates, silverware, napkins, and everything in between!
216
people are looking at this space
The Loop 215 - Powered by 25N
215 North Payne Street, Alexandria, VA 22314
The Loop - Powered by 25N The Loop isn't your typical shared workspace — we are a mindful community that believes in work-life balance. Our coworking space has its own unique vibe and is designed with a holistic approach so our members can thrive in what they do. We've created a shared communal setting that intertwines work and self-care while cultivating productivity. Beyond falling in love with our space and amenities, it's easy to find your tribe here because we all share one common goal: wellness while we work.