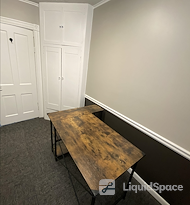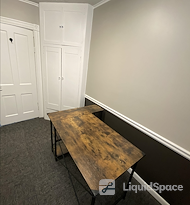 Private Office - 1 Available
The 1601 Building
1601 3rd Street, 6, Beaver, PA 15009 -
Confirmed Open
Beaver Office
This space is perfect if you need a quiet place to work! Very low traffic building. It has a desk, office chair, and a small table with two chairs in case you have a client or want somewhere to sit and eat. This office space is right next door to the kitchen area that has a mini fridge, microwave, and a convection oven. The office has been newly painted, carpeted, and two new GFCI outlets were installed. A code will be given for backdoor access and it will also be the same code for the door to your office space. There is a waiting room in the front of the building that you are more than welcome to have a client wait in or come down to eat on our pub style table and chairs. I will most likely be in the office building in my own office and can assist you with any of your needs!
Door w/Lock
Keyless entry. Code will be provided.
Window View
Not a great view, but there is a window that gives the room natural lighting
Kitchen
Microwave, mini fridge, and convection oven available for use.
Parking
Private Parking lot in back of building
36
people are looking at this space
The 1601 Building
1601 3rd Street, 6, Beaver, PA 15009
The 1601 Building
1601 3rd Street, 6, Beaver, PA 15009
The 1601 building is a well kept, quiet business building in Beaver. It is within walking distance to dining and a short drive for coffee, although we do have coffee available at our building! Also, it is less than a mile from 376. Also very close to 65 and 51. There is a bathroom located on the top and bottom floor, along with a kitchen space on each as well. There is a private parking lot in the back. Front and back door have keyless entry, as well as the office that we have available for rent!