564 people are looking at this space
Event Space for 250 at The Hub on Kenny
4510 Kenny Rd, Columbus, OH 43220
Event Space
3,000 sq ft venue featuring a bar and multiple flat screen TVs. Enjoy and open party space suitable for anything ranging from a viewing party or birthday celebration to a work or networking event. Please feel free to contact us anytime about an upcoming event or to schedule a site visit.
Amenities & Services
Room Set-up
Space is set up as pictured. If there is a different way you would like it arranged please contact gabby@thehubonkenny.com to request a different option.
TV/Monitor
Access to 6 flat screen TVs and a sound system.
Coffee/Tea
2 Keurig coffee/makers available 24/7.
Hosted Reception
Available weekdays, 9AM-5PM
Print/Scan/Copy
Generous amount of free printing and copying.
6AM
7AM
8AM
9AM
10AM
11AM
12PM
1PM
2PM
3PM
4PM
5PM
6PM
7PM
8PM
The Hub on Kenny
4510 Kenny Rd, Columbus, OH 43220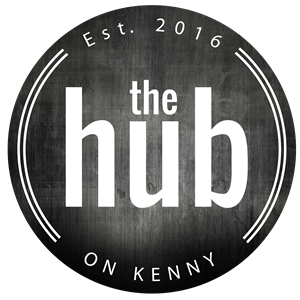 About The Hub on Kenny in Columbus
Coworking
Entrepreneurial, creative, techy vibe shared environments, with mostly open floor space and some private offices. Community and networking a big draw.
Spacious open office or private office availability. 8 private offices and ample coworking space. Amazing conference room also available. The Hub on Kenny has extensive member perks such as flexible month to month agreement with 24/7 access, complementary coffee, high speed free wireless internet, private conference room access, generous printing, business center, private bar, growler service, mail service option, concierge, complete phone service, TV and common spaces for socializing, events, meetings and relaxing, administrative support assistance, and networking opportunities.

Shared Workspace Membership
Starting at $134/mo.
For 1 Open Desk (3 available)
1 month min. term (Auto - renewed)
New shared work space in Columbus, OH. The Hub has a variety of tables, couches, and desks for you to choose from to complete work in a modern, comfortable, and uplifting environment. Shared work space also has several amenities …
View Details
Rating and Reviews for Event Space
Event Space
I felt ripped off and lied to by these folks. We booked a small meeting room, and were offered to use a larger adjoining space by the fellow who welcomed us in the morning. After the set-up, right before the meeting began, the manager came and told us she'd have to charge us for the larger room and I thought that was reasonable - it was a very nice room, preferable to the original plan. The original room was about $200 for the day. A week later I saw a charge for $1000 for day. I was shocked, called the manager, and was told that that was the official rate for the big room. I told her than I was expecting a modest and reasonable upcharge, and that I certainly thought she should have mentioned that the seemingly gracious offer by her colleague to use the larger space would increase my cost FIVE FOLD. We agreed that it would be reasonable for them the charge me $400 and we'd call it even. She said she'd credit my card through LiquidSpace. A week later I called her back - no credit had been offered. She said her boss had overruled her, and said that the best they could do was mail me a check for $250. Why hadn't she called to let me know? She pretty much blamed her boss. Well, mail the check at least, I said. It's been about three months. Think we got a check? Of course not.