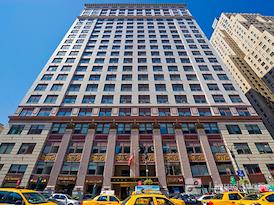 Private Office for 1
Regus | Madison Square Garden
5 Pennsylvania Plaza, New York, NY 10001 -
Confirmed Open
Office Space
Give your team a place to focus, thrive and grow, while we take care of all the details. IMPORTANT: By requesting to book space at this venue, you agree to a 14-day cancellation policy and the venue's terms of use. Read the terms at; https://bit.ly/regus-terms-of-use Review the Moderate 14 Day Cancellation policy at; https://liquidspace.com/terms/hourly-space-license-agreement

17
people are looking at this space
Full refund if you cancel 14 days before the reservation start time.

Regus | Madison Square Garden
5 Pennsylvania Plaza, New York, NY 10001
Situated across from Penn Station, this influential, bold space is located in one of New York's most iconic locations, Madison Square Garden. Large floor-to-ceiling windows provide plenty of natural light to boost productivity, with views over Manhattan's skyline. Inside, a variety of coworking spaces allow for making contacts. The neighboring entertainment complex, home of the New York Rangers and Knicks, provides you with after-work entertainment options for both your colleagues and clientele.