294 people are looking at this space
Private Meeting Room for 60 at ANSI Conference Rooms
Midtown Conference Room
Two hour minimum. The Midtown conference room is an ideal option for larger meetings. This bright 23' X 42' room can be configured in a number of ways. Depending upon the configuration selected: Chairs may be set-up along the perimeter of the room to provide additional seating. Tables may be set-up along the perimeter of the room to provide space for food, drinks, meeting materials, etc. Extra tables can be set-up immediately outside the meeting room, if necessary, to accommodate registration and/or meeting materials. The Midtown conference room can be divided into two separate rooms (listed as Fifth Aven and Sixth Avenue conference rooms) to accommodate small- to medium-sized groups. Separated by rolling floor-to-ceiling wall panels, these dividers can be easily moved to create an ideal meeting space for breakout sessions or small work teams. When closed, the dividers ensure complete privacy. Both the Fifth Avenue conference room and the Sixth Avenue conference room are well-lit and each includes a pull-down projection screen. IT and audio/visual services are also available. Inquire for more details.
Amenities & Services
WiFi
Wireless internet access. Username and password will be provided by receptionist upon arrival.
Phone ($)
Cisco teleconfernce unit; US toll free and local calls only. Dial 9 to get outside extension
Room Set-up
Configuration Seating Capacity Boardroom Style 28 - 30 Theater Style 45 - 60 "U" Shape 28 - 30 Classroom 18-25
Whiteboard
Mobile whiteboards available with flip charts and markers.
Filtered Water
Bottled water or pitcher of ice water can be provided.
Print/Scan/Copy
Speak to receptionist for assistance.
Projector
Optoma DLP projector; Mac input not available- Mac users must bring their own adaptor
Parking
Street parking on 43rd and 44th Street. IKON Parking garage on 43rd Street. Hippodrome Parking Garage entrance 43rd St and 44th street.
6AM
7AM
8AM
9AM
10AM
11AM
12PM
1PM
2PM
3PM
4PM
5PM
6PM
7PM
8PM
Unpretentious vibe with great dining options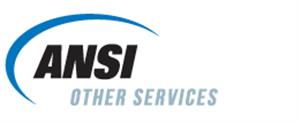 About ANSI Conference Rooms in New York
Business Centers
Professional, full service space that caters to those looking to do private work in a shared environment with office facilities and services.
For your next small business meeting or event in New York City, consider the American National Standards Institute's facilities in the heart of midtown Manhattan. Conveniently located on 43rd Street between Fifth and Sixth Avenues, meeting attendees will be steps away from local transportation, hotels and restaurants to meet every budget.

Bryant Park Meeting Room
Starting at $720/day
Private Meeting Room for 8
Show Rates
$145/hour
$500/half‑day
($125/hour)
$720/day
($90/hour)
Bryant Park conference room - Two hour minimum. An intimate meeting space, around the corner from Bryant Park and two blocks from Times Square. This conferene room is ideal for a small business meeting. Measuring 13' x …
View Details

Fifth Avenue conference room A
Starting at $1,040/day
Private Meeting Room for 20
Show Rates
$185/hour
$700/half‑day
($175/hour)
$1,040/day
($130/hour)
Two hour minimum. The Fifth Avenue meeting room, measures 23' x 27.5' and includes six rectangular tables that can seat up to six persons. These tables can be utilized individually or combined to create a boardroom-style …
View Details

Sixth Avenue Conference room B
Starting at $900/day
Private Meeting Room for 12
Show Rates
$160/hour
$600/half‑day
($150/hour)
$900/day
($112.50/hour)
Two hour minimum. The Sixth Avenue meeting room is a medium-sized meeting room measuring 23' x 15' and includes four rectangular tables setup boardroom style with a total comfortable seating capacity of 12. Configuration …
View Details