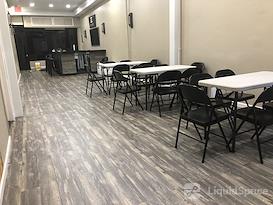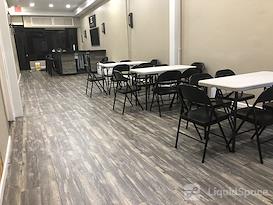 Zip Code
2313 Tilden Avenue, Main Floor, Brooklyn, NY 11226 -
Temporarily Closed
We are a brightly lit event and meeting space available to be used as a co working space. We supply the tables, chairs, and kitchenette area with full refrigerator. There is a bar, yes a bar, available with coffee and tea. We're located in East Flatbush just minutes away from Kings Theatre, Flatbush Avenue and many local eateries.
Read more

Meeting Space Monthly
Office Suite for 30
Starting at $2,070/mo.
1 month min. term
Open blank space including tables and folding chairs. There is enough space to allow for social distancing. Access to multiple power outlets, WiFi, television, use of Keurig, and access to a full refrigerator. There is a small kitchenette area for use. Coat rack available. Outdoor space in back for privacy.
Amenities & Services
Kitchen
Full refrigerator, Counter space, Keurig and water
Zip Code
2313 Tilden Avenue, Main Floor, Brooklyn, NY 11226
Community