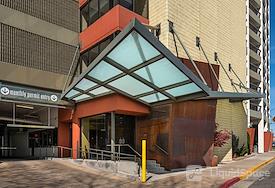 Ballpark Lane Executive Offices
300 East 2nd Street, 1510, Reno, NV 89501 -
Confirmed Open
Ballpark Lane provides the premium executive offices solution in Northern Nevada. Top floor Class A, fully furnished private offices provide striking views of downtown Reno and the entire Truckee Meadows. Our large conference room is an ideal location for customer and partner meetings with a custom granite conference table and inspiring views from the broad window lines. Our experienced and attentive team is readily available to address all of your office needs so you can focus on your business. Covered secure parking provides quick and easy access in and out of your offices. Close proximity to Greater Nevada Field and right on the Truckee River, this is an iconic location for hosting clients and serving at your business address. A shared kitchen makes it easy take your meals and snacks without leaving your office. Onsite restaurant provides a convenient and delicious dining option.
Read more

Interior Office - 14
Private Office for 1
Starting at $825/mo.
1 month min. term
Furnished interior office with easy access to the kitchen and wellness room. Both Wi-Fi and hardwired Internet connection available in this office.
Amenities & Services
Coffee/Tea
Keurigs available, with a variety of coffee pods and sweeteners.
Hosted Reception
Hosted reception area manned 8-12 and 1-5 p.m. weekdays.
Notary Services
We use NotaryLive for our notary services. $25 per session, and $5 each per additional signatures. $5 facilitation fee.
On-site Restaurant
Mellow Fellow Gastropub
Parking
Free parking in our garage.
Print/Scan/Copy
0.09 cents per B&W copy; 0.30 cents per color copy. Additional handling fee if reception is involved.
Ballpark Lane Executive Offices
300 East 2nd Street, 1510, Reno, NV 89501
Community