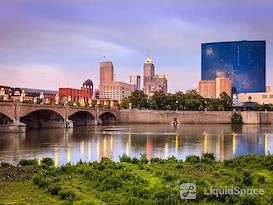 Private Meeting Room for 8
Zaahi Studios.Facilities
951 W Morris St, 0, Indianapolis, IN 46221 -
Unconfirmed Hours
Conference Room Weekday
Conference Room A private meeting area to meet clients and your team. Enough space for your next presentation, meeting or workshop. The conference room is available from 10:30 am to 5 pm Monday through Friday based on availability and reservation. Also included are: -Free Coffee Bar -Projector (Upon Request) -Business Class Printer -Google Chromecast -60 in. 4k HDTV -10 ft. Conference Table -Business Class Wifi
Projector
Projector with HDMI, VGA, or Chromecast capabilities.
Door w/Lock
Conference room has a door with a lock for privacy.
Filming Allowed
Video Taping is allowed, as long as, you follow our social media policy. When tagging Creator Space on Social Media, use #creatorspace. For questions, contact our conceirge at 317.438.9404.
TV/Monitor
55 in. 4k HDTV with Google Chromecast to cast your devices onto the tv.
Whiteboard
Please contact Concierge for Projector, White Board, and Projector Screen Requests at 317.493.8316.
Coffee/Tea
Free Coffee, Tea, and Water available at our Coffee Bar (sometimes beer and soda too).
Filtered Water
Thirsty? Bottled water available at our coffee bar.
Kitchen
Microwave, Refrigerator, Large Hot/Cold Beverage Containers, Party Dishes, Cultry
Parking
Parking available at our space.
Pet Friendly
We love pets! Please let us know if you or your guests will be bringing any pets along during your stay.
Print/Scan/Copy
Business Class Laser Copy Printer(s) available. One located in the Conference Room and one located in the front Common Area. For questions, contact our concierge at 317-493-8316.
4
people are looking at this space
Zaahi Studios.Facilities
951 W Morris St, 0, Indianapolis, IN 46221
Zaahi Studios.Facilities
951 W Morris St, 0, Indianapolis, IN 46221
Company- Zaahi Studios is a working studio that touches all aspects of production from producing films to shooting commercial work for clients both locally and out of state. Zaahi Studios is recognized as one of Indiana's photography, television production and post-production facilities. We are an in-house studio that has 3 divisions in a DIY warehouse studio - Zaahi Studios.Facilities, Zaahi Studios.Creator Space and Zaahi Studios.Set Design. Our 10,000 sq. ft. lot houses one of the largest green and white screen coves in the Midwest, 4 production stages, and recording booth with a complete range of production, rental, and service departments. Community- The mission of Zaahi Studios.Facilities is to provide a place for creators, writers, designers, and film makers to create and shape stories that are both inspiring and engaging; and to provide a friendly, creative environment which brings together the best creative talent. Our success is based on a spirit of teamwork among people that value the art of creating the impossible dream for the clients they serve. Our facility was built to empower creators to be able to take their productions to the next level. With our variety of membership services and studio accommodations, our production facility is a great space for the hobbyist, bold startup, or even national businesses/brands. Location- Our coworking studio is minutes away from downtown Indianapolis and is comprised of 10,000 sq. ft. of creative infrastructure designed to inspire and motivate new ideas. If you are looking for a space for your team to get inspired and get work done... If you are traveling from out of state and need a space to work from... Or if you are simply looking to host your next event at a creative facility... Then, let's talk!