512 people are looking at this space
Private Meeting Room for 35 at The Mutiny Hotel
2951 South Bayshore Drive, Coral Gables, FL 33133
Bounty Room
The Mutiny Hotel offers an intimate atmosphere with full service event management, providing for the perfect meeting retreat. Small, creative thinking sessions will be inspired by views of the lush green garden and brilliant blue sky just outside the French glass doors. Intense budgeting sessions get results with support from our experienced and professional staff and full-service catering. Creative International menus are available, with service provided by our in-house restaurant, Table 14.. The Bounty Room is 900 square feet/83 meters.
Amenities & Services
Projector ($)
The projector is $250.00 per day use, Plus Tax. We also have a 70' HD LED Monitor on Chrome Stand (Movable) and all cabling fee $400 per day.
Room Set-up
Theater: 60; Classroom: 40; Conference/Boardroom:35; U-shape/Hollow Square: 25; Banquet/Reception: 40
Catering ($)
Catering by Atchana's East/West Kitchen
Coffee/Tea
Catering by Atchana's East/West Kitchen
Door w/Lock
The Meeting Room could be lock we will provide the person in charge of meeting a key for the days of the meeting,
Filming Allowed
Yes, we allow filming, need to contact Wendy Zane for the terms and fees.
Window View
The Meeting Room has natural lighting as well as black outs. The room overlooks at our gardens with access to the outside.
On-site Restaurant
Table 14 Bar & Restaurant is our signature restaurant in Coconut Grove, located at The Mutiny Hotel. This sophisticated-yet-casual Miami bar & restaurant is the product of JC & Cristina Digon's vision and passion along with Executive Chef Nilton Cast
Parking
Valet Parking day use fee $10.00 per car,Ovenight $29.00 Self parking is also available, street sides and public garage.
Print/Scan/Copy
24 hour business center Secretarial service, printing and facsimile
6AM
7AM
8AM
9AM
10AM
11AM
12PM
1PM
2PM
3PM
4PM
5PM
6PM
7PM
8PM
The Mutiny Hotel
2951 South Bayshore Drive, Coral Gables, FL 33133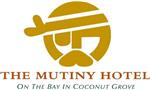 About The Mutiny Hotel in Coral Gables
Business Centers
Professional, full service space that caters to those looking to do private work in a shared environment with office facilities and services.
The Mutiny Hotel is centrally located in the heart of Coconut Grove. A long time playground, Coconut Grove--the Grove as referred to by the locals--is also a second-home community to celebrities, corporate titans, and luminaries. Its entertainment and shopping district reflects the quirky yet sophisticated nature of its residents and visitors. Here you'll find everything from haute couture to haughty kitsch in the many shops at CocoWalk, just steps from The Mutiny's door.