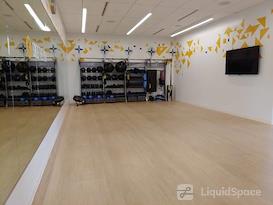 SPACES - Santa Clara Square
2445 Augustine Dr, #150, Santa Clara, CA 95054 -
Confirmed Open
Originating in Amsterdam, Spaces was built on the idea that success breeds more success. We want to redefine the way work is done. That's why we've cultivated a community of thinkers, achievers and imagineers. Plug into our energy and watch your world accelerate. Take a midday stroll through Santana Row, a bustling round-the-clock live, work, play community. Break away from the workday hustle to peruse the racks of designer storefronts and trendy boutiques. A stone's throw away are lively sidewalk cafes where you can soak up creative energy of like-minded people over lunch. We're easily accessible from the Santa Clara Caltrain station using route 60 and from downtown San Jose using route 23. We provide : co-working desk, 5300 sqft Business Club, 5 Meeting room. Parking garage, Gym Access, and Restaurants onsite.
Read more
Amenities & Services
Coffee/Tea
Black Coffee, Tea and Water. Espresso Beverages additional.
Hosted Reception
8:30AM to 5:00PM
Kitchen
Plates, Cups, Cutlery and paper goods.
On-site Restaurant
We have an onsite food court with a lot of options to fit any appetite.
Parking
Parking is in the controlled access parking garage. Limited space available
Community
16 People favorited spaces at SPACES - Santa Clara Square in Santa Clara
16 followers at SPACES - Santa Clara Square in Santa Clara
Jillian Brown started following.

3 months ago

Malcolm Parrish started following.

4 months ago

Lilan Huang started following.

5 months ago