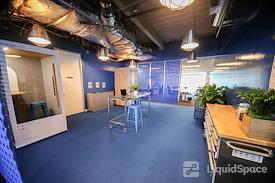 Coworking for 6
OneValley
2955 Campus Drive, San Mateo, CA 94403 -
Unconfirmed Hours
Mountain & Valley Views
Located right off of highway 80 and the 101 freeway, you'll find our captivating creative work space that offers flexibility and an amenity rich experience built for any size company, whether you're a founder with a billion dollar idea or an enterprise company looking to host your innovation team in the heart of Silicon Valley! We have meticulously planned and built out our two level flexible office space with over 14,000 square feet of open space, 12 meeting rooms of varying sizes, window lined offices designed for single and team use, dedicated desk and hot desk users. This is the *perfect* location if you have a dispersed team, as we're centrally located in San Mateo right off the highway with PLENTY of FREE parking, and ease of access with Cal-Train Shuttle services. This beautiful, expansive corner office outfitted with views of the Bay Area is available for a limited time for drop in team meet ups and filming. This office is brightest during the morning hours, and experiences cooler afternoons. All furniture and setup is available during your rental. If you require this space outside of business hours (M-F | 9am-5pm), please send us a message with details and we will send you a proposal. We are nestled on a hill in the heart of San Mateo and our space offers breathtaking, panoramic views of the San Francisco Bay as well as the rolling hills of the iconic Silicon Valley. Our specialty is curating a community of entrepreneurs dedicated toward innovating for our future. Uniquely, we are not only a co-working space, we support and foster the global entrepreneurship ecosystem through our innovation centers and through Passport, our global founder community and online portal for startup resources. Masks are required in our space. *** If you are booking this space for Production/Video purposes, you will need to book 1-2 additional spaces in order to stage your equipment, have space for hair and makeup, and any other storage you may need for equipment. You will not be allowed to stage equipment outside of the conference rooms or offices, and you will not be allowed to take over open space for hair and makeup. All spaces will need to be booked prior to your reservation. Maximum Occupancy: 8 people in each office/conference room. Additional people will be charged a separate fee. ***
Filming Allowed ($)
Additional rooms required for Production bookings.
Bike Rack
Located in the rear of the parking structure. Locks not provided.
Coffee/Tea
We are currently providing limited coffee & tea services daily, with the requirement of every member and guest to use Clorox wipes to sanitize all surfaces touched.
Filtered Water
Flavored Sparkling & Still Water available via our Bevi machine
Hosted Reception
There is a host at the reception desk that greets all guests, takes everyone's temperature and can guide them to specific areas and conference rooms on the first floor. They are present from 8am-4pm daily.
Kitchen
compostable utensils, napkins, soap, sanitation stations
On-site Restaurant
There is a Campus Cafe available for catering or individual breakfast and lunch orders on the first floor.
Parking
Ample FREE parking right in front of the building!
Print/Scan/Copy
All members have access to unlimited color & b/w prints
45
people are looking at this space
OneValley
2955 Campus Drive, San Mateo, CA 94403
Located right off of highway 80 and the 101 freeway, you'll find our captivating creative work space that offers flexibility and an amenity rich experience built for any size company, whether you're a founder with a billion dollar idea or an enterprise company looking to host your innovation team in the heart of Silicon Valley! We have meticulously planned and built out our two level flexible office space with over 14,000 square feet of open space, 12 meeting rooms of varying sizes, window lined offices designed for single and team use, dedicated desk and hot desk users. This is the *perfect* location if you have a dispersed team, as we're centrally located in San Mateo right off the highway with PLENTY of FREE parking, and ease of access with Cal-Train Shuttle services. We are nestled on a hill in the heart of San Mateo and our space offers breathtaking, panoramic views of the San Francisco Bay as well as the rolling hills of the iconic Silicon Valley. Our specialty is curating a community of entrepreneurs dedicated toward innovating for our future. Uniquely, we are not only a co-working space, we support and foster the global entrepreneurship ecosystem through our innovation centers and through Passport, our global founder community and online portal for startup resources.