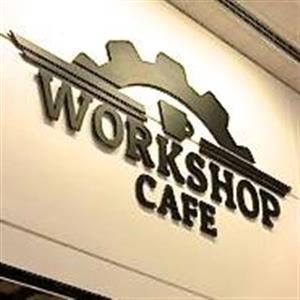 Workshop Cafe
180 Montgomery Street, Ste # 100, San Francisco, CA 94104
Workshop Cafe
20 Followers
Workshop Cafe is a unique artsy-tech venue in the heart of downtown San Francisco, a thrilling place where many start-ups have started. 6000 sq ft. designed to host all kind of events, ultra customizable, you can rent part or the entire venue. We have a full gourmet coffee bar, great food selections and pastries, as well as beer & wine. With tons of outlets, ergonomic seating, super-fast wifi, and an open layout, Workshop Cafe is a great place to kick-start your next big thang! The Conference Room - Size: Up to 10 people - Amenities: 50' LCD monitor, Apple TV, whiteboard - Perfect for: Presentations, small meetings, brainstorms The Lookout - Size: 12 to 20 people - Amenities: Bar, outlets, and table seating - Perfect for: Getting work done, informal meetings or presentations The Library Room - Size: up to 70 people (40 with laptops) - Amenities: Close-able barn door (for privacy), Stage - Perfect for: Trainings, focus groups, meetings, dinners, presentations, and networking events The Gallery - Size: 50 to 80 people - Amenities: 10 person private room, 2 person private room, 8 person community tables, video monitor workstations - Perfect for: Company Off-site (plenty of areas for breakout sessions), theater-style presentations, multi-day conferences, receptions, cocktail parties, and holiday parties. Amenities: - Widescreen monitors - Handcrafted coffee and onsite cafe - Ergonomic seating - Outlets galore - Crazy fast WiFi - Printing and Scanning - Private Phone Rooms - Concierge Services
Just off Montgomery BART Station!
About 180 Montgomery Street in Oakland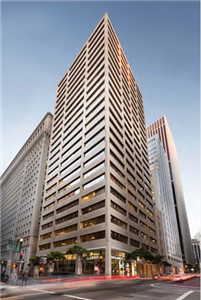 Want the same Financial District address as Bank of the West, Lexmark, Prudential Insurance, the Union Labor Life Insurance Company and Western Union? 180 Montgomery is a landmark 25-story tower in the heart of SF's most influential and exciting business district. Your team will marvel at building from top to bottom. The upper floors deliver classic views of the surrounding skyscrapers. The ground floor features a remodeled lobby with a modern glass and marble concierge desk, terrazzo floors and brass accents framed by enormous glass panels. Built in 1979, 180 Montgomery Street is a 25-story Class A office building with onsite management and 24 hour security. The structure received an Energy Star award and LEED Gold Certification for environmentally efficient practices. No location can beat 180 Montgomery for convenience. SOMA's tech district is only blocks away. Just about every transport system in SF stops nearby, including buses serving the East Bay, Marin County and the Peninsula. Major hotels and fine dining options dot the area, as do lunch spots of all stripes. The sights and shops of Union Square, North Beach and the Ferry Building are all well within walking distance.
Amenities & Services at 180 Montgomery Street
WiFi

Accessibility

Catering

Coffee/Tea

Entry

Filtered Water

On-site Restaurant

Parking

Print/Scan/Copy

Projector

Room Set-up

TV/Monitor

Whiteboard

Window View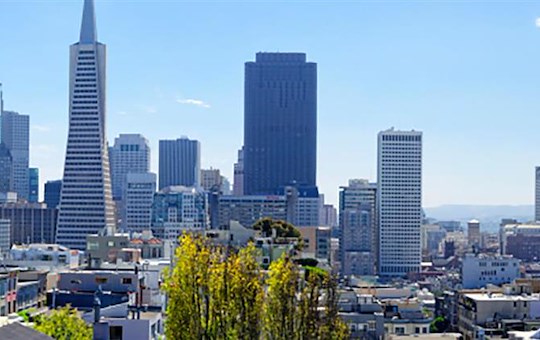 The San Francisco business hub forms the iconic skyline of the city
Community Workshop Cafe in San Francisco
20 People favorited spaces at Workshop Cafe in San Francisco
20 followers at Workshop Cafe in San Francisco
Di Lei, Not Here, Ashley Brown, Christina Blankenburg, Josh Halstead, Ozzie Gooen, Luba Khait, Elena - Product Innovator @LiquidSpace Luneva, Emily Mcdonald, GORO MOTAI, Donna Yan, Craig Ostrin, Michael kim, Enitan Ladipo started folowing one year ago
Ricki Dorman, jim, Dr. Randy K. Sugawara, Kanen Flowers, Aaron Bortman, Vivienne Hsu started folowing 2 years ago