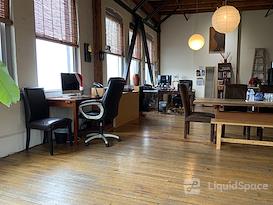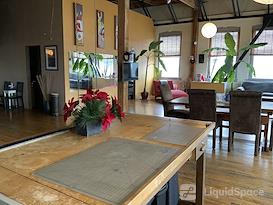 Team Office for 1
MyGroove Design, Inc.
1155 5th Street, Studio 405, Oakland, CA 94607 -
Confirmed Open
COWORKING INCUBATOR (ALL INCLUSIVE) | 1,500 sq ft
Reflect, think, incubate and implement ideas! Our Coworking Incubator is a space to immerse yourself in the creative work with support and tools. From a strategic point of view, we are working to advance diverse business owners and support the sharing of ideas by making thinking visible during the creative process Give yourself, your team, or Seed Accelerator program the space for cross-functional collaboration, freedom to explore new ideas, and brand strategy to move projects forward at an accelerated pace. Our Coworking Incubator helps startup businesses, individuals, and small teams succeed and grow by providing workspace, mentorship, expertise, and networking opportunities with peers and industry leaders. We have the office space to think outside the box and over 17 years of brand strategy expertise to help develop your idea, nurture your startup and support your team. We focus our efforts on the early-stage product development and startups that do not have a business model or structure and provide supportive services as we launch your strong idea into a viable product. We also take a collaborative approach with good Seed Accelerator Programs seeking to partner and connect with mentors that will allow their startups to engage with us throughout their program. We understand that startups succeed faster when offered supportive services, mentorship, office space, supply chain resources, and funding opportunities. BRAND CONSULTING SERVICES: Consider us your strategic partner who is invested in your overall success. We are committed to supporting Entrepreneurs, Businesses and Seed Accelerator Programs in overcoming the challenges that arise during the early phases of their business so that they can get off the ground. Tell us what you need help with, and we'll concentrate our efforts on building one or more of the following: ⭐️ Brand Architecture Design and Development ⭐️ Differentiate and Position Your Brand ⭐️ Message Course Your Brand Story ⭐️ Create and Design Your Unique Value Chain ⭐️ Design and Structure Your Framework ⭐️ Design and Develop Your Model and Process ⭐️ Establish Design Criteria: Brand Identity & Visual Elements ABOUT THE SPACE: This is an ideal space for super ambitious folks with an entrepreneurial spirit. Create individually or collaboratively while utilizing the space for professional meetings, creative ventures, presentations, workshops and events. Included is 24 hour access and usage of our amazing 1500 sq. ft. studio/work/live loft in West Oakland/Jack London Square (INDUSTRIAL AREA) as you, your team or program incubates and develops your business, idea, or venture. ⭐️ Open Studio Hours: 8 AM - 10 PM ⭐️ 24-hour access to focus...and so much more! ⭐️ Usage of Shared Space + Private Space/Conference Room ⭐️ 1500 Sq. Ft top floor corner loft ⭐️ Open layout, high ceilings & 12 ft high windows with lots of natural lighting ⭐️ Tables, chairs and desks. ⭐️ Full-size kitchen ⭐️ Full-size bathroom ⭐️ Gallery space (studio walls and hallway) ⭐️ Monitor and 72 ft. large screen available for presentations ⭐️ Projector and A/V equipment available use ⭐️ Secured building entry ⭐️ Utilities and Wi-fi included ⭐️ Limited office/bathroom/kitchen supplies ⭐️ Complimentary coffee, tea, water and snacks ⭐️ Plenty of parking as well as off-street parking ⭐️ Freight elevator available for easy loading and unloading ⭐️ SPECIAL PRICING for Teams of 2-5 and Seed Accelerator Programs (Inquire for more details)
Meeting Rooms
Since this a shared open creative work space, exclusive time can be negotiated for meetings, workshops and classes.
Kitchen
Fully Stocked Kitchen: Refrigerator, Gas Stove, Dishwasher, Sink, Plenty of Counter Space, Bar,
DASH License®
Book Online for no lease and no hassle. Save time and money when you book this space online with DASH®, an industry standard license for flexible workspace transactions.
Preview DASH®
Exclusive Savings
Direct access to exclusive network offerings, including 10% off hourly and daily spaces once you've booked a monthly space online.
Learn about Network Benefits
Expert Advice
Our dedicated team of Space Experts is available anytime – at no additional cost – to assist with your office search.
Connect with a Space Expert
Plenty of Guest Parking and FREE Street Parking
379
people are looking at this space
This hipster haven has become fertile ground for companies trying to escape the high prices of the city.
MyGroove Design, Inc.
1155 5th Street, Studio 405, Oakland, CA 94607
MyGroove Design®, Inc. is a brand consulting, graphic design, and digital media studio in Oakland, California, which serves the greater Bay Area and beyond. We specialize in creating, positioning, designing, launching, and maintaining consistent and powerful brand solutions that extend into all facets of your business. Our deep understanding of human behavior and multicultural marketing influences our creative process, solves business problems, and delivers meaningful customer experiences. We're grateful for the opportunity to collaborate with avant-garde, and forward-thinking clients actively engaged in launching new brands, repositioning, or revitalizing their brands. Our clients hire us for an authentic, fresh, hip, and contemporary perspective! We can help you elevate and bring your creative idea to the world with our services: ⭐️ Brand Strategy Design & Development ⭐️ Comprehensive Brand Identity Design & Development ⭐️ Creative & Graphic Design Services ⭐️ Website Design & Development ⭐️ Digital Media & Social Media Marketing ⭐️ Professional Live Streaming Productions We are open to working with Client-side Marketing Professionals, Individuals, Entrepreneurs, Artists, Musicians, Small to Medium-sized Businesses, Startups, Seed Accelerator Programs, Business Incubators, Non-profits, Foundations, Companies, Agencies, and Firms. CREATIVE STUDIO Building trust and social bonds are crucial to building confidence to share ideas freely. Collaborate with other creatives and partners to generate new ideas and launch your brand. Connect with co-workers on projects in a dedicated creative space to improve problem-solving. Or reserve our studio for content shooting and filming. The ultimate creative studio with floor-to-ceiling windows, natural lighting, and positive energy flow is no longer beyond reach. Our studio supports the flow of creativity. Come up with fresh ideas, and promote them to reach a global audience to generate awareness. We offer Professional Live Streaming, a Co-working Incubator, and Studio Usage (on an hourly basis) for Off-site Meetings, Media Production, and Special Events.