240 people are looking at this space
Private Meeting Room for 30 at Crowne Plaza Los Angeles Commerce
6121 Telegraph Road, Commerce, CA 90040
Ruby Room
Ruby Room is 640 sq ft. A wonderful choice for smaller groups. Can be set in rounds of 10 for 30 people, Classroom Set for 18, U - Shape for 15. Still allows space for a Screen and Projector along with a Coffee/Tea Station. Catering on site with our fabulous Executive Chef Team. We offer 1/2 Day and Full Day meeting packages. Can customize menus to fit your meeting needs.
6AM
7AM
8AM
9AM
10AM
11AM
12PM
1PM
2PM
3PM
4PM
5PM
6PM
7PM
8PM
Crowne Plaza Los Angeles Commerce
6121 Telegraph Road, Commerce, CA 90040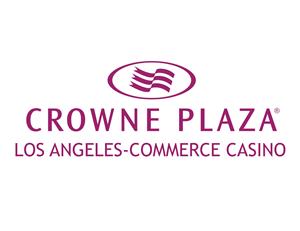 About Crowne Plaza Los Angeles Commerce in Commerce
Business Centers
Professional, full service space that caters to those looking to do private work in a shared environment with office facilities and services.
The Crowne Plaza Los Angeles Commerce if a full service, newly renovated hotel and meeting facility. The meeting space on the Mezzanine level and second floor, offer a variety of choices. The Crowne Ballroom, with its professional showroom stage and 13,240 sq. ft. of pillar-free meeting space is perfect for conferences, banquets and exhibit shows. Plus, the ballroom can be divided into 6 salons and used in combination for breakout rooms. The Mezzanine level offers an Executive Boardroom along with 3 upscale meeting spaces, to cater to all of your meeting room needs.

Executive Boardroom
Starting at $933/day
Private Meeting Room for 10
Show Rates
$117/hour
$466/half‑day
($116.50/hour)
$933/day
($116.63/hour)
Executive Boardroom is perfect for those smaller meetings of 8-10 people. Boardroom table has built in outlets for power in the center. Room size large enough for a screen and projector. Also, space for Coffee/Tea Station. …
View Details

Diamond Room
Starting at $2,185/day
Private Meeting Room for 80
Show Rates
$333/hour
$1,333/half‑day
($333.25/hour)
$2,185/day
($273.13/hour)
Diamond Room is 1148 Sq Ft of Space with 8 Ft Ceiling Heights. Located on the Hotel 1 Mezzanine Floor. Perfect for any meeting or small event. Can seat up to 80 in Rounds of 10. U-shape can accommodate up to 36 for meetings, …
View Details

Emerald Room
Starting at $1,639/day
Private Meeting Room for 40
Show Rates
$250/hour
$1,000/half‑day
($250/hour)
$1,639/day
($204.88/hour)
Emerald Room is 660 sq ft. It can accommodate many styles of meetings, from a luncheon for 40 in rounds, to a Conference U- Shape for 20, a Classroom setting for 30, or Theater Style for 50. We have on site Catering with …
View Details
Rating and Reviews for Ruby Room