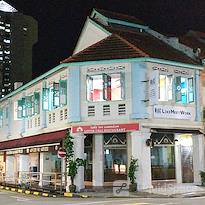 Private Office for 2

LikeMeetWork
145a Jalan Besar, 02-01, Singapore, Singapore 208863 -
Confirmed Open
Private Office (up to 2 pax) | 47 sq ft
Our most affordable office space starting with only $850 per month. This room is brightly lit, coloured green and has a front facing window to the residential area. It is perfect for individuals or a small team who are looking to work outside of their home in a cosy environment. Suitable for 1 – 2 pax.
Exclusive Savings
Direct access to exclusive network offerings, including 10% off hourly and daily spaces once you've booked a monthly space online.
Learn about Network Benefits
Expert Advice
Our dedicated team of Space Experts is available anytime – at no additional cost – to assist with your office search.
Connect with a Space Expert
200
people are looking at this space
LikeMeetWork
145a Jalan Besar, 02-01, Singapore, Singapore 208863
LikeMeetWork
145a Jalan Besar, 02-01, Singapore, Singapore 208863
WORKPLACE OF THE FUTURE - Private Office (Shared Basis / Exclusive) - Ideal for Zoom Video Conferencing - Work From Home (WFH) alternative - Conducive, Creative & Cosy - Remote Office - Ideal for Study/Projects Constantly on the move? In between appointments? Need a quiet place to concentrate without breaking the bank? In need of a place far away from the hustle & bustle? Want a place to perform online meetings productively? Close to plenty of cheap & delicious local delicacies? Want 24/7 shopping at Mustafa & Sheng Siong for your comfort & convenience? Affordable - Each private office comes with dedicated air-con & a window view. Lots of local eateries nearby, e.g. cheap chicken rice @ only $2.50, halal BBQ, tasty nasi lemak / nasi bryani, exotic turtle / crocodile meat soup, authentic Beijing food, North Indian cuisine; trendy and hip pubs & cafés too. Accessible - 24/7 access. We are located right next to Jalan Besar MRT station in Central Singapore, outside of the ERP toll & features the cheapest HDB multi-storey carpark right outside our doorstep! We can customise & personalise your Private Office or Team Meeting Room needs. Ample Space - Just the right balance of old Singapore heritage & Peranakan ambiance, & privacy to work or to cram for exams/projects. Our space design is cosy, pro-work & eco-friendly. Private offices come with a window view & natural light. Dedicated & decentralised air-con units (NEA 5-tick highest energy efficiency) with COVID-19 ready air filtration system for the safety & comfort of everyone. We are nimble and flexible to meet any requirements. FOR ENTREPRENEURS, BY ENTREPRENEURS Welcome to LikeMeetWork - Innovation Lab and Eco-Friendly WorkSpace! As an Innovation Hub and Business Accelerator, our mission is to help SMEs & entrepreneurs to grow both locally & globally in order to get to the next level. We are a springboard where creative collaboration & passionate community of people blast to the moon together. We are borderless. Come join us. We offer you the opportunities to meet different businesses and work together like a family. Working together with like minded individuals can be really motivating and increase your productivity. Meeting different people from different industries sharing information and enabling further collaboration. All these are made possible within the coworking space. We aim to provide you with comprehensive features while eliminating unnecessary costs so that our prices remain to be most affordable to you. Cosy charming colourful private offices, meeting rooms, virtual address, hot desks, event hall, yoga / pilates studio, recording & podcasting studios. Our business centre is located within an early 1900s building within the cultural and picturesque Little India and we are absolutely committed to the cause of conservation and preservation of the environment. We look forward to seeing you soon! LikeMeetWork.com Innovation Lab, Work Space & Event Space Virtual tour: https://bit.ly/likemeetwork