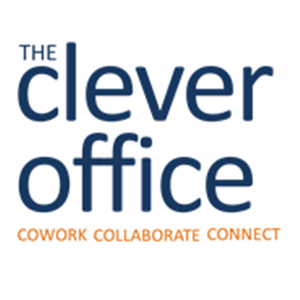 1 Follower
The Clever Office is a coworking office space located in the heart of Collingwood, one of the fastest growing entrepreneurial hot spots in Ontario. Whether you need a private office with a view, a semi-private office, or a desk for the day, we've got the business solution to meet your needs and your budget. The Clever Office caters to a wide variety of businesses and entrepreneurs looking for affordable, professional, and collaborative work space with all the amenities. Simply put, our job is to make your job easier.Our sophisticated and quirky space was designed to break down barriers for those working alone, or who need a space away from distractions at home or public places. Surround yourself with like-minded professionals and have access to boardroom, receptionist, smart boards, networking events, and more.

Meeting Room
Starting at CAD $102/day
Private Meeting Room for 4
Show Prices
CAD $23/hour
CAD $62/half‑day
($15.50/hour)
CAD $102/day
($12.75/hour)
Meeting room with live-edge barn wood table, suitable for 4, with presentation TV and conference phone. Great space for job fares, we greet your potential employees, we can even have them fill out their application upon arrival.
View Details

Meeting Training & Event Space
Starting at CAD $153/day
Event Space for 35
Show Prices
CAD $40/hour
CAD $102/half‑day
($25.50/hour)
CAD $153/day
($19.13/hour)
Book your next meeting at The Clever Office. We have Meeting Rooms, Board Rooms, Training Rooms & Day Offices for you to gather with your team off-site or discuss business with your clients. Arbitration/Discovery/Mediation Our …
View Details
Amenities & Services at 1 First St
WiFi

24/7 Access

Accessibility

Bike Rack

Catering

Coffee/Tea

Door w/Lock

Filming Allowed

Filtered Water

Furnished

Hosted Reception

Kitchen

Mailbox Services

Meeting Rooms

Parking

Phone

Print/Scan/Copy

Projector

Room Set-up

Storage

TV/Monitor

Video Conference

Whiteboard

Window View
Space Types at 1 First St
Meeting Space
Event Space
The Clever Office
1 First St, Suite 220, Collingwood, ON L9Y 1A1